Christmas Collection
Christmas Collection brownies are HERE! Dispatch available from 5th December to 19th December.
The best cakes in the world. No, really.
I need more
These cookies are simply amazing. Heated them up in the microwave and they were even better. Keep looking to see when they are restocked so I can order more!
These are so good!
All 4 flavours were delicious and the blondies were a good size. Very moreish. The only regret you'll have is that you finished all 8 so quickly!
Delicious
Absolutely delicious. Will definitely be ordering again.
Really yummy i had warm with pouring cream defo recommend 👌 😋
Long live Chaos
Omg… seriously good brownies, worth every penny paid, soft, gooey, and just mouth melting
Mmmmmmm all the way ♥️
Apple Crumble Blondies
My first order but definitely not my last from Chaos Makes Cake. I don't normally buy blondies as I prefer brownies but I love apple crumble so thought I would give them a try. Absolutely delicious, I can not recommend them enough..
Best Brownies I've ever had
And I've eaten a lot! These were all delicious and are a generous size. I'm about to start drooling thinking of them!
They were the perfect texture for me "fudgy" doesn't do them justice, they're more like fondant in the middle. These made me want to eat them slowly and savour every bite, and at the same time I wanted to stuff as much as possible into my mouth. Definitely will be ordering more and trying the other products!
Buy these!
These are amazing! Will order again soon!
Sooooo good!!! Decadent, rich, beautifully flavoursome. Very expensive but very worth it!
Birthday brownies
I changed the date in my order as website stated 2-4 days delivery and I was worried they wouldn't arrive in time as we are in NI. (This was no problem). Thank u Ines! They even arrived early! They are the most delicious brownies. So fudgy - which is hard to get. Good selection of flavours. Will def be buying again. Excellent customer service.
Just Wow
Every order gets better! I absolutely loved the pumpkin spiced brownie, melt in the mouth, autumn deliciousness!
Wow!
Absolutely sensational brownies.
Outta this world 😆
As always these are gooey, rich and very moreish, filled with huge chunks of chocolate and caramel. Absolutely delicious, one of my favourites to date!
Mixed cookies
We had a mixed cookie box recently, every cookie was so tasty! We heated them a little as recommended on the packaging and they were fantastic. They were really well packaged/presented too so worked well as a gift. We will be ordering again!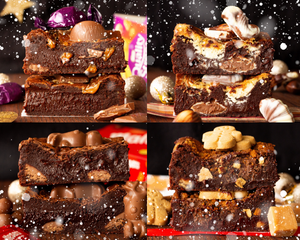 🎄The Christmassy One (Mixed Box 8 Brownies)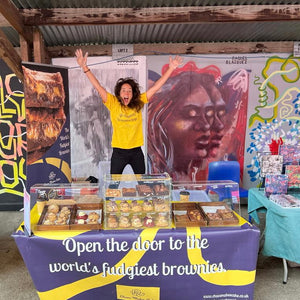 Welcome to the bakery!
We take cake very seriously. After trying (and being rather disappointed) by many postal cake companies, we've spent the last few years baking up a recipe for the world's FUDGIEST, crunchy-topped, gooey-centred brownies. We've got a truly fantastic range of flavours, too - over 30, and counting.
Delivering really good cake to someone's home is the best way to spread joy. So, we don't compromise on freshness, or ingredients - we hand-craft all our brownies to order, with thoughtfully sourced ingredients, and drop them on your doorstep on a day of your choice.
Our customers have left our brownies more than 250 ⭐️⭐️⭐️⭐️⭐️ reviews - that's a lot of cake, and a lot of happy customers!
We're so excited to bake for you, thanks for stopping by.
- Ines, Founder & Director
Shop Brownies
Recipes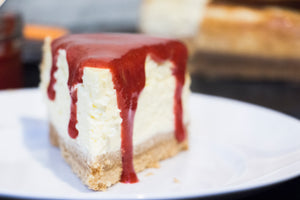 This is a purist's cheesecake: velvety, sweet and speckled with vanilla, and with a cream cheese tang. And the BEST buttery biscuit base. You can use it as a blank...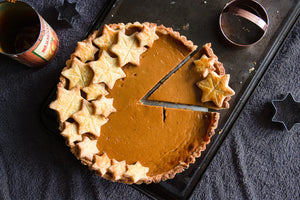 Pumpkin pie is one of those foods that evoke autumnal coziness, and the spices make the whole house smell festive. I'd actually been looking forward to baking a pumpkin pie...
Cheap chocolate? No thanks.
There may be a place for cheap chocolate, but it isn't in our brownies.
Supermarkets and high-street coffee shops use cheap, long shelf life ingredients in their cakes - oil instead of butter, cocoa powder instead of real chocolate, eggs from caged hens - and often, they get away with it. It still tastes like cake (ish).
But if you love food, you can tell when the ingredients are flavourless, or the texture isn't quite right.
So, we don't compromise on the quality of our ingredients. Our brownies are made with Barry Callebaut 70.5% dark chocolate, proper French butter, Madagascan Nielsen-Massey vanilla paste and Burford Browns' free range eggs.